Places to Visit
Natural Beauty: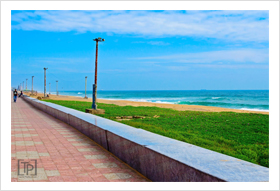 Ramakrishna Beach (RK Beach) - Visakhapatnam: RK Beach is one of the largest sea fronts in the southern part of India. The beautiful soft sands and commercial/residential skyline make it of one the best places to spend your leisure time. There are many attractions on the sea front that you just have to visit when you are at RK beach, including: Kalli Temple, Submarine Museum, Matsyadarshini, Dolphin Nose, and Vuda park. There are many sea front retail establishments available for light snacks and on the go pickups. Don't forget to grab the hot masala corn freshly made by local vendors for just a few bucks. If you want some fancy dinner with that someone special, you may visit the luxury beach front restaurant at Novotel (Hotel Varun Beach) or Taj Gateway hotel. They have some of the best south and north Indian food in town. RK beach is just 2 to 3 KMs from our hotel.

Note: RK beach is not considered to be the safe for swimming, so if you plan to take a dip, please follow the posted guidelines or consult a local guide with more info for swimming at RK beach.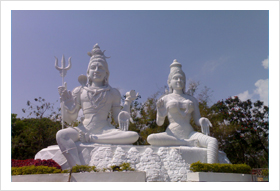 Kailasa Giri, Visakhapatnam: This is considered to be one of the most sought-after hill spots on the Vizag sea front. There is a huge Lord Siva and Parvathi statute atop the hill. For this reason, the place was named Kailasa Giri. There is a ropeway car facility available, making it a destination for kids and families together. Kailasa giri is around 10 KM from Encore Inn, Daba Gardens hotel location. We will be able to arrange for paid transportation for any of our guests who wish to visit Kailasa Giri during their stay with us.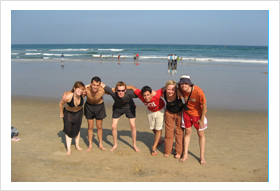 Rushikonda Beach, Visakhapatnam: One of the most beautiful locations in Visakhapatnam, Rushikonda Beach is located around 8 to 10 KMs from RK Beach. Rushikonda Beach has lush mountains on one side and beach front on the other. From the top of the mountains you can see the blue water in the Bay of Bengal. Trust me, this view will make you want to settle in Vizag, or at least  force you to look for some plot of land in the Rushikonda area. It is so beautiful that it can't be expressed in words. It is a MUST-SEE place in Vizag. Rushikonda Beach is also very famous for swimming. We advise our guests to visit this place. AP tourism has had some good ideas for the development of Rushikonda Beach, and they have done a good job in keeping up with their promises. Rushikonda Beach is located around 15 KMs from the hotel. Our guests take frequent visits to Rushikonda Beach during their stay with us. Ask the reception desk for more info if you have any needs; we will be happy to assist you.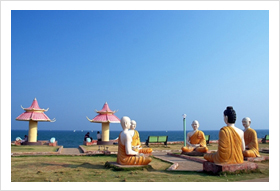 Bheemli Beach (Bheemunipatnam): Located around 25 to 30 KMs from the city is a small town (part of Visakhapatnam Municpal area) well known for its virgin beach. Still considered to be underdeveloped and untouched by urban life, the originality is still retained at Bheemli Beach. You can experience the village life style at Andhra Pradesh. Bheemli is well known for its 17th Century Dutch settlement; one of the historical places to visit in Bheemli is the cemetery of Dutch settlements and the historic light house. The water front is very close to the road, giving a clear view of the ocean. You can make your swimming dream a living experience here, as the water is safer than at other beaches in Visakhapatnam. Ask the helpful staff at our reception or travel desk for more info on Bheemli Beach.
There are a few other famous beaches that you may plan to visit when you are here in town. They include Gangavaram Beach, Lawson's Bay Beach and Yarada Beach. All of these beaches are located within 15 to 20 KMs of Encore Inn, Daba Gardens, Vizag. For more info on these beautiful beaches, ask our travel experts at our front/travel desk.
Araku Valley : Around 3100 feet above sea level, the Araku Valley is considered the hill station of Andhra Pradesh. Just around 80 to 90 KMs from Visakhapatnam, it's well-known for its beautiful weather, enchanting lush mountains and lovely tall waterfalls. It's a pleasurable drive from Vizag to Araku Valley. The road is well-developed for safe travel and the trip won't make a big dent in your pockets either. We have regular trips from our hotel to Araku Valley on a daily basis. We also recommend taking a train trip from Visakhapatnam to Araku Valley; the train crosses over 25 caves between the city and the valley. The train travels at moderate speed, giving you plenty of time to view and enjoy the beautiful mountains while still relaxing in train. The only problem is getting train tickets, thanks to the in-demand nature of the Indian Railways.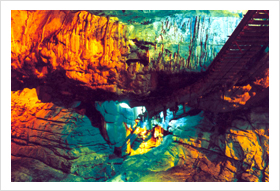 Bora Caves: Another must see place in close proximity of Visakhapatnam is the Bora Caves, located in between Vizag and the Araku Valley. If you are planning to visit Araku Valley by road, you will pass by the Bora Caves. Therefore, there is no need for a separate trip or planning. You can easily combine both the Bora Caves and Araku Valley in the same trip. Archaeologists believe the caves are around a million years old. They are a geographic wonder worth seeing. During your visit, try to go down the caves and see the holy cow known as Kamadenu, placed at the very bottom of the caves. Please do watch your steps when you are visiting the Bora Caves. And if you have kids or elderly people with you, please pay additional attention to them when exploring the caves.